The "DixieKats" are a concert, show and dance band who play a variety of traditional Dixieland and Bayou Gumbo. The band plays music made famous by Louis Armstrong, Pete Fountain, King Oliver and more recently, Dr. John, Randy Newman and the Neville Brothers.

The Band has been featured headliners at Dixieland, Jazz and Wine Festivals, State and Regional parks and many other special events in New York State and Pennsylvania, including the New York State Fair. For many years the band has been a staple at Cornell University Alumni and Sports functions.

Most recently, the band has played at the Lilac Festival in Rochester, New York; The Great New York State Fair and has been featured at the Hershey Sports Arena playing in front of six thousand people for their 2009 Centennial Celebration.

The Historic Sports Car Racing Association, featured the band for seven years at the NASCAR Watkins Glen International Speedway. Most recently the band has been featured at the Hershey Sports Arena for their 2009 Centennial Celebration.

Sample songs include: Runnin' Wild, Blow Wind Blow, Caravan, Cheek To Cheek, Closer Walk, Going Back Home, Blueberry Hill, Jelly Roll Blues, St. James Infirmary, Kansas City, Ain't Misbehavin', Rascal, St. Louis Blues, Saints, St. Louis Toodle-o, What A Wonderful World.

The band carries a complete sound system that can be fine tuned to nearly any venue, from small club stage to larger outdoor concerts. While the band prefers existing standing cover when at all possible, they can carry their own small cover in the event of inclement weather.

Promotional materials that include photos, posters, bios, press release information, logo elements and an audio CD demo are available on request. Note Adobe Acrobat Reader required. 

Check out two recent reviews:

"Gary James Presents Interviews"       FamousInterview.com, Interview with Kelly Sabetta,  

View four videos 
of the DixieKats
in performance
Requires latest flash player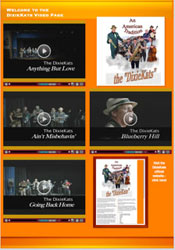 For slower computers find the videos
on YouTube.com
The band has a combined musical history of hundreds of years of individual playing experience in a wide variety of musical styles.
These seasoned players have come together as the DixieKats to offer Dixieland music, some of the Happiest Music on the planet.
Personnel include, the Leader, David Plaine on alto and baritone sax, Casey Max on vocals, Dave Richman on vocals, guitar and banjo, Peter Forlano on clarinet and tenor sax, Bob Fisher on trumpet and flugel horn, John Young on upright & electric bass, Mark Sammo on vocals, electronic drums and percussion.
Upcoming gigs:  
View a slideshow of the band performing in Myers Point Park, July 23, 2009. (Requires FlashTM)
What's New!
New Audio Compact Disk is now available.